Offering novel and unique solutions, regardless of the industry, always comes with multiple risks. Getting things right and convincing others about the importance of your value proposition takes time and experimentation. That has been a big part of the story since we launched BeLazy in June 2019.
Time brings perspective and reflection brings clarity, the saying goes. Now, a few months after our first anniversary we have come to the conclusion that Belazy's offering is purely service-based, even though our value proposition is about workflow automation across computer systems. We have grown to believe that a business model of selling services is the right choice and will increase customer satisfaction. 
The following article helps business decision-makers responsible for efficiency and automation in translation companies – company owners, CEOs, technology executives, solution architects, program directors – understand how we can support them to shift from manual workflows to a future-proof automation-first approach.
According to the business literature, there is a blurred line between products and services: selling products always include services (think about a warranty or customer care lines), and selling services (such as accommodation) may include the use of physical facilities. Indeed, the rental of a product is also a service. While the concept "software as a service" has become a growing trend over the past decade, in reality, what we observe is that in most cases the offering is made up of a yearly fee with license usage and support and upgrades included. That sounds more like a financial category – operative costs vs capital costs – than anything else. Discerning whether what we do at BeLazy should be considered a service or a product is not easy for ourselves either.
The financial aspect of the value
Since day one, our goal has been to create connectors to integrate translation systems deployed at different players in the supply chain: enterprises to multilingual vendors, multilingual vendors to single-language vendors, and single-language vendors to translators. In the translation industry, the conventional model has always been to charge for either a user seat/access or a module, such as a connector. However, most people think it is not worth investing into such a kind of technology at an early stage when you are only receiving a few projects from a certain customer — naturally, you want to work out the manual process first. From our own experience, this line of reasoning always ends up duplicating the amount of work: you design the manual process, exception-handling becomes the norm, and then automation just got way more complicated by the time you get there. Instead, we think automation is a mindset and it shouldn't always depend on scale. We are now convinced that the per seat or per connector model does not support our cause.
As BeLazy offers project creation in business management systems, we have also considered a different model, a per value model. As a rule of thumb, the costs associated with manual project creation depend more on the number of projects being created than on the relative size of these projects. For smaller translation companies, this means that in most cases, small projects are almost always unprofitable. 
On average, the amount of time a project manager spends managing a project is more or less the same, regardless of the size of it (provided we refer to a project that can be done by one linguist in one step, e.g. translation). 
Therefore, the creation cost per project can be calculated as:
Number of minutes per project
Imagine a project manager spends 5 minutes preparing such a project. Imagine also that for your company, the hourly cost is €20 euros an hour, which is a relatively low amount when considering taxes, infrastructure and software costs. We're talking about an average of €1.66 as the average cost per project, whether tiny or regular.
We then considered to charge for a percentage of the revenue per project. Why? Think again about those small projects. We are more attractive if our automation solutions help companies, especially the small ones, make these projects profitable. Therefore instead of charging an average per project fee, we decided to charge a percentage of the project value. What you charge for the project must cover your staff cost too, and our business model this way generates profit for you, no matter how small the project. We take the hit for your small projects. To make it a no-brainer to use BeLazy for all projects, we decided to cap the fee in case you have bigger projects.
This is the reason why, project creation, which was the first service we introduced, costs 2% of the project fee or a maximum of €5 per project. If the creation of one project takes 10 minutes instead of 5 (this metric is individual and the average is between 5 and 15 minutes), a project manager can create 6 projects in one hour. Now take the maximum fee per project (€5) and multiply it by the number of projects created in an hour (6 projects) — it adds up to an hourly cost of €30 for a project manager. Certainly, in many countries this figure is probably a bit higher than the actual cost. But there is a reason for that. We aimed higher than the actual figure on purpose, because it is exactly these projects where you can give a little more in exchange for the savings we provide on the smaller ones. For those, you would still pay between €1.5 – €5 for project creation, often more than what you earn with them. With our technology, it only costs a few cents, and in total, you win.There's another aspect: we regard project management automation the same way for projects as credit card acceptance for payments. It's not only the cost: it's a differentiator for customer convenience. For example, if you automate project acceptance for standard projects, your project manager contact will always happily give you work because you take it quickly.
From the beginning, we believed that our offering was something like a project management assistance service — instead of just software. However, one has to admit that underneath our offering has also been an extremely tricky software product development. Why is it complicated? Testing our product on real-life jobs is much harder than on a development environment, even more so when the other party is not cooperating with us. Sometimes the accounts we are given access to don't get a job that we could test with for days which means we have to reshuffle the priorities of our development team.
Project automation is actually a service
Perhaps, one of the mistakes we made was supposing that project creation was actually enough to start with and to break even with. Once you have the right framework set up, creating the links between one system and another is a relatively straightforward thing — as a matter of fact, we had already achieved this around December 2019. It's actually the same decision-making that you go through when creating a project manually: If it happens to be an industrial automation project, how do you create it in your own system, which possible values of specialization do you select? If the customer pays a percentage for the 80-89% matches, how do you set up the project when you don't have that category in your system?
The big boost to our company came back in December 2019 with the BeLazy Early Automators Program: four courageous smaller language service providers trusted us to automate some of their workflows in exchange for a paid contribution. Financially speaking, it was nowhere near as much money as it cost to develop these solutions. Yet, we are incredibly grateful to them for believing in us and putting the money where the mouth is. These projects showed us and the rest of the translation industry that project automation is possible, even when the landscape is fragmented and reaching profitability requires thorough thinking. 
In six months, we have achieved full automation for two of the projects and partial successes in the other two. We have then moved on with the WeOptimize project, bringing together the vendors and the client (Welocalize) to improve not only how we support their system, but also the processes in between, for the benefit of both the client and the vendors. We truly believe that through this process, Welocalize will increase its efficiency and get better at identifying – and cutting – some of the unnecessary steps through vendor feedback.
One of the biggest lessons for this year is having realized that process automation is as much technology as changing approaches. And this is where the product approach fails us and calls for a service approach instead.
However, because we focused so much on the fact that there should not be a barrier to entry for our services, we ended up leaving the management of a highly technical process in the hands of businesspeople. Most of the implementation projects were managed by the owners or managers of the LSPs. Now we see with clarity that this is not the ideal approach: not a single company could implement our technology to all of their projects and nobody reached the level of confidence required to change the style of project management from standard to exception-based. Complementing the standard project management with technology is just the first step.
Project automation is a complicated beast. It depends on: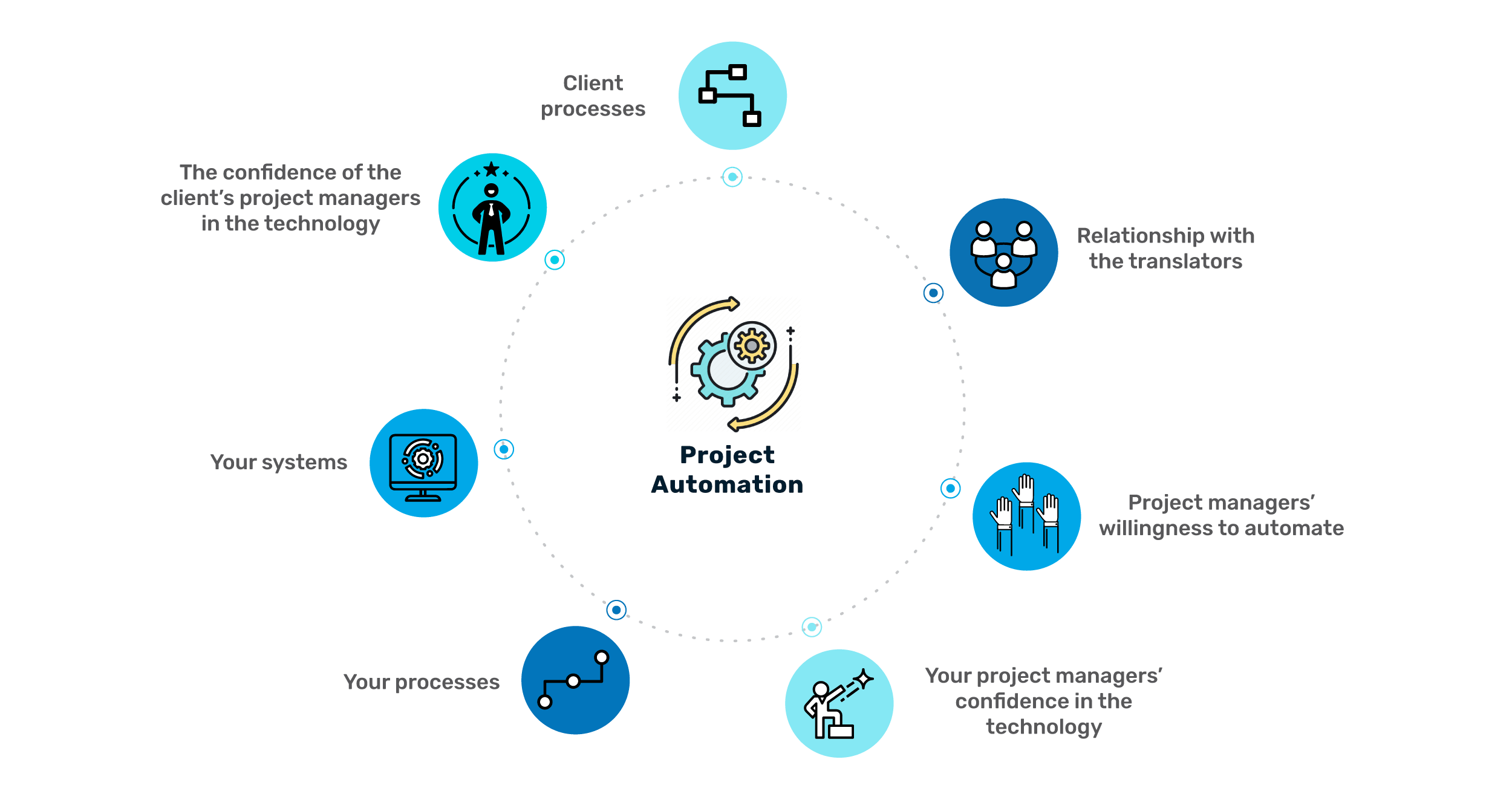 That's a lot of things! And as you can see, there are two aspects: improving, standardizing and automating processes, and also improving relationships.
And if you improve relationships, the value is way more than just the time of the PM saved:
How does this change affect you?
It's very simple: a service-based offering means you get regular discussions, mutually agreed roadmaps, more tools to improve and key performance indicators from us. We transform a technical service into a business improvement project where we act as project consultants. We work with multiple people in your company and do our best to get everyone on board. We guarantee success that is not just the instant gratification of setting up just a connection, instead we aim to achieve solid results within a few months. If you need to change the configuration or modify your custom software, we discuss this with everyone involved, including your in-house or external development team, planning, budgeting, and signing off the changes with you.
The cost of the service depends on the range of changes you want to introduce: the number of people involved, the number of consultations needed, and also whether there are some challenges – new integrations or other tricky parts – that need to be supported by our platform. Given that moving forward is in the interest of everyone, we still keep our beneficial philosophy: if you know another company that needs the kind of solution and you are able to get them onboard, we will split the software development costs.
Once the implementation project is over, we will only charge the percentage as per our list prices, unless you want us to run a continuous improvement project, which includes regular check-ups and ongoing support of your business – not only of the technology you contracted.
Moving forward, implementation services will be offered to every new customer to guarantee their success. Existing customers may decide to take advantage of these improvements and complete the deployment successfully, but will not be required to contract these services.
We believe that our shift towards a service-based offering will be the key to achieving the next milestones with BeLazy.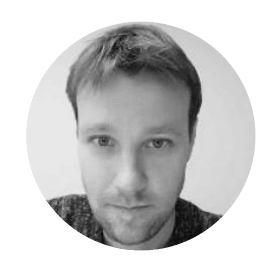 Thank you for making it up to here! Would you like to see what the implementation project should look like in your company and infrastructure?